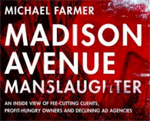 The second edition of Michael Farmer's advertising industry-shaking manifesto Madison Avenue Manslaughter was  released by LID Publishing. Subtitled "An Inside View of Fee-Cutting Clients, Profit-Hungry Owners and Declining Ad Agencies," the book's new iteration features a Foreword by Ogilvy CEO John Seifert as well as several updated sections chronicling an industry in a state of disrepair beyond what was reported in the 2015 edition.
Madison Avenue Manslaughter outlines the hows and whys of steadily declining fees, increased workloads, diminishing industry perception and morale, kickback scandals and opacity characterizing relationships among advertisers, holding companies, media buying companies and creative ad agencies. The exposé has been called "required reading for everyone who works in advertising—marketers and agencies alike."
Against this background, the book cites a steady 4.5 to 5 percent year-over-year decline in advertising agency prices over the past 25 years—the constant dollar price (income divided by workload, with inflation removed) for agency work has declined from approximately $400,000 in 1992 to $139,000 in 2015, and the deterioration continues year-over-year. However, agencies keep hoping that improved creativity will answer their predicament, instead of mending practices of loose management, thin use of data, and little understanding of workload.
A systemic problem is that major advertisers expect their procurement departments to cut agency fees year-over-year, whether through straightforward fee reductions or agency reviews, calling advertiser accounts onto the mat. Notes Michael Farmer, author of Madison Avenue Manslaughter:  "They fail to see a connection between the poor performance of their brands and the commoditization to which they have subjected their disenfranchised agencies."
Meanwhile, in their quest to appease shareholders, agency holding companies oblige their agencies to reduce costs to make up for revenue shortfalls, with increased profit margins resulting from financial engineering. As a result of cutting jobs and salaries, agencies are enfeebled even as clients expect more creativity, increased digital presence and improved brand value. At the same time, to make up weaknesses in agency capabilities, holding companies have had to turn themselves into "super-agencies" to meet clients' growing needs for integrated creative and media services.
Madison Avenue Manslaughter  lays out the elements of the perfect storm that characterizes the current highly complex state of the advertising industry. Observes Farmer, "Everyone needs to retrench. Brands need to stop commoditizing agency services and take some responsibility for their falling brand value—they must rethink the role of the advertising agency in building back that brand value."
The book counsels that holding companies and media companies must do likewise, while addressing the recent media kickback scandals that have further eroded agency perception and decimated the morale of the industry. "The only solution, as I see it, is to reestablish the relationship between agency and advertiser wherein the agency becomes, once again, a strategic, proactive partner playing a key role in increasing brand value," says Farme
One possible bright note in this scenario is that, according to one study, CMO tenure is getting longer—from a nadir of 25.1 months from 2004 to 2008 to 48 months in 2014. Asks Farmer, "To what extent is the dispensable CMO a reflection of the disposable agency? My advice to CMOs who want to steady their ship is to work out their long-term relationships with their agency partners.  While the mix of media, social, content and creative isn't going to get fixed overnight, it's critical to set a long-term plan in motion, and then execute on it."