NBCUniversal Telemundo Enterprises and Mazda North American Operations (Mazda) announced a premier multimedia advertising campaign that will introduce the all-new Mazda CX-5 to U.S. Hispanic audiences through "¡Al Bate!" (Batter Up!) – an eight episode, documentary style mini-series featuring former MLB player Ramiro Peña, who currently serves as an infielder for the Hiroshima Toyo Carp of Nippon Professional Baseball. Through Peña's compelling life story, he describes his passion for the sport of baseball and his experience as an immigrant in Japan. Telemundo and Mazda will engage audiences in a way that is relatable and poignant to many Hispanic families in the United States.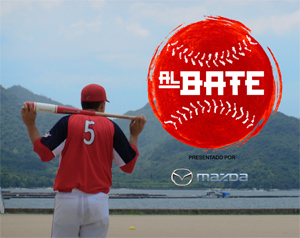 The campaign was preceded by a series of Mazda media assets that ran in Japanese to generate curiosity and buzz among Hispanic audiences who are used to Spanish messaging on Telemundo's digital platforms, including TelemundoDeportes.com, Telemundo's Novelas App, and the network's Facebook pages.
"Our partnership with Mazda allows us to be creative in the way we develop unique content that captures the attention of audiences regardless of platform," said Laura Molen, Executive Vice President, Advertising Sales, Lifestyle Group and Telemundo Enterprises, NBCUniversal. "¡Al Bate! is compelling, premium video content that is authentic to Mazda's Japanese heritage and we're excited to introduce it to the passionate Telemundo audience as we work to break through the clutter in the traditional advertising space."
On July 25, "¡Al Bate!" will debut on TelemundoDeportes.com. The series is the quintessential immigrant story, and presents an intimate look at Peña's journey to a new country. Set in Hiroshima and shot in cinema-verite style, the series captures his experience first-hand, and fans will feel as if they're along with him on the journey. The passion for baseball that took Peña to Japan – and now continues to manifest itself in a newfound passion for the country's people, food, and traditions – will be felt by every fan who watches the series.
"In our mission to better connect with the Hispanic community, we recognize the importance of developing meaningful content that will ultimately create a connection between the Hispanic community and the personality and passion of the Mazda brand," said Russell Wager, vice president of marketing for Mazda. "By partnering with Telemundo to create this mini-series, we are able to utilize its influence and credibility in the Hispanic community, and create authentic creative assets that are impactful to consumers."