Marketers may be intrigued by new developments like artificial intelligence, augmented reality and voice search. But plenty worry that they are unprepared to work with emerging tech.
Indeed, of the 500 marketing executives worldwide surveyed by web presence management and SEO company Conductor in November 2017, 34% said they felt most unprepared to deal with AI in 2018—the highest rate of any technology mentioned.
But their unease didn't stop there. Nearly three in 10 respondents said the virtual and augmented reality trend is something they don't feel prepared for, while 23% named voice search.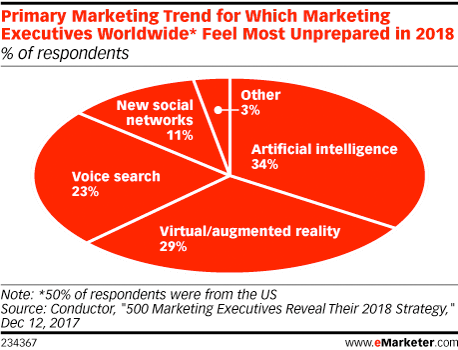 Email remains an extremely reliable and popular way for brands to communicate with their audience. This complimentary report looks at how marketers are working to head off future problems of relevancy by embracing sophisticated data practices and emerging technologies.
Fewer respondents (11%) said they weren't ready to handle new social networks.
Marketers are likely unprepared for these emerging trends because they may not necessarily understand them.
AI firm GumGum polled marketing and advertising executives in North America last June to gauge how they were feeling about the technology and whether they were incorporating it into their marketing efforts. While a significant number (61%) of respondents were generally aware of AI, only 3% considered themselves experts in the area.
One thing's for sure, though. Marketers are thinking harder about these emerging technologies. June 2017 data from NewBase asked marketers worldwide what technologies they were prioritizing over the next 12 months. Roughly a third (30%) of respondents said they planned to prioritize AI. A year earlier, only 13% said the same.