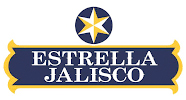 Estrella Jalisco announced an agreement with Soccer United Marketing (SUM), the commercial arm of Major League Soccer, to partner with the Mexican Soccer Federation (Federación Mexicana de Fútbol, FMF). As part of the agreement, Estrella Jalisco becomes the Official Beer of the Men's Mexican National Soccer Team (MNT) throughout the annual U.S. Tour of El Tricolor, on the Road to Russia for the 2018 FIFA World Cup and beyond.
"In many ways, Estrella Jalisco is a lot like Team Mexico. We're authentically and undeniably Mexican. Our beer has been brewed in Jalisco for more than 100 years. We're also hungry to make a big splash next year and get some big wins in our column," said Yonathan Bendesky, Senior Brand Director for Anheuser-Busch, Mexican Imports. "We're expanding our distribution in February and can't think of a better way connect with soccer fans than supporting Mexico's campaign at the 2018 World Cup when people from all over the world are sharing beers while cheering on their teams."
The category exclusive partnership with SUM will activate across multiple channels with the brand planning to launch television advertising, digital content and social media, public relations, OOH and point-of-sale efforts. In addition, the partnership includes branded presence at Mexico's annual U.S. Tour kicking off on January 31 at the Alamodome in San Antonio, Texas. The tour will visit four additional cities that will be announced at a later date.
"Anheuser-Busch has been a long-time supporter of international soccer and we're excited to partner with a brand like Estrella Jalisco that is proudly brewed in Mexico, and an intrinsic part of Mexican heritage/culture," said Jennifer Cramer, VP, Partnership Marketing, SUM. "This brand understands the significance of soccer and the unique opportunity to engage with MNT fans through the U.S. Tour."
As part of the partnership, Estrella Jalisco receives category exclusivity as the Official Beer Sponsor of the Mexican National Team (MNT) in the U.S. as well as imagery rights and legend appearances.