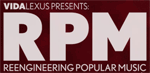 VidaLexus RPM is an original weekly web series that takes audiences on a musical journey, exploring different Latin music genres and reengineering their sound with the help of Latin pop sensation Raquel Sofía.
The series follows Raquel as she travels to four U.S. cities - Miami, New York, Chicago, and Los Angeles – to learn more about the types of Latin music that have had a strong a cultural presence in each region. Along the way, she enlists the help of expert local musicians to reimagine each city's genre by combining classical elements with her unique contemporary sound.
Throughout her travels, Raquel collaborates with some of the best producers and musicians, including: Mr. Pauer; DJ Le Spam from Spam All Stars; Tony Smurfio from Afrobeta; Ulises Lozano from Kinky; and Marcelo Tijerina from Mexican Dubwiser.
The journey begins November 7 in Miami with Son Cubano, followed by a stop in New York to explore Salsa. Latin Jazz is the focus of the third stop in Chicago, and the series culminates in Los Angeles with a look at regional Mexican music. In 2016 Vida Lexus RPM hits the road with stops in Chicago on November 30. And in 2017, in Los Angeles, featuring Raquel Sofía performing songs that were recorded during filming. Four songs will be released by Sony Music Latin in an exclusive EP on Spotify and feature original music videos published exclusively on VidaLexus.com.