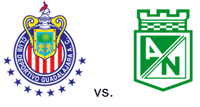 Club Deportivo Guadalajara, the current Mexican soccer champion, faces off against the "Colombian king of cups," Club Atlético Nacional, in what has been called the super cup of champions: "Supercopa de Campeones."  The exhibition match takes place this Sunday, September 3 in New York and can be viewed live at 4:55 pm E/ 3:55 pm C/ 1:55 pm P on Azteca America.

The Supercopa de Campeones is an exhibition match pitting against each other the two clubs with most championship titles in their respective leagues: C.D. Guadalajara and Atlético Nacional.
Guadalajara continues to be one of the most important teams in the history of Mexican soccer with twelve Liga MX titles, four Copa MX titles, seven Copa Campeón de Campeones wins, and one Súper Copa de México cup. The team is currently champion of both the Liga MX and Copa MX tournaments.
All these victories place the "Chivas Rayadas" with Club América as the top-ranked Mexican soccer teams amassing the most championship titles.
Atlético Nacional has won a total of 28 titles in both national and international championships, earning the team the moniker of "el rey de copas" ("the king of cups").
Since 2013, Atlético Nacional, also known as "Verde Paisa," has won five Liga championships, two Copa Colombia championships, and a Superliga, as well as winning a second Copa Libertadores championship in 2016.
All of its accomplishments led the International Federation of Football History & Statistics (IFFHS) in 2014 to name Club Atlético Nacional de Medellín the fifth best soccer club in the world.
Club Deportivo Guadalajara vs. Atlético Nacional de Medellín, Sunday, September 3 at 4:55 pm E/ 3:55 pm C/ 1:55 pm P on Azteca America.