Telemundo and NBC UNIVERSO will present the exclusive US Spanish-language simulcast of "The Best FIFA Football Awards™" on Monday, January 9 at 12:30PM/11:30 AM C. Telemundo Deportes presenters Andrés Cantor, Miguel Gurwitz and Ana Jurka will lead the Spanish-language broadcast of the event, which will be hosted by Eva Longoria and Marco Schreyl at the TPC studios in Zurich, Switzerland. The awards ceremony can also be viewed on Telemundo Deportes digital properties on Facebook and YouTube, and the Telemundo Deportes app.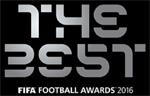 "The Best FIFA Football Awards" are the latest incarnation of the Ballon d'Or and World Player of the Year Award, accolades FIFA has sponsored since 1991 to honor top players and coaches.  The 2016 finalists include Leonel Messi, Cristiano Ronaldo and Antoine Griezmann for Best FIFA Men's Player, and Claudio Ranieri, Fernando Santos and Zinedine Zidane for Best FIFA Men's Coach.  Other categories include Best FIFA Women's Player, the FIFA Fan Award, FIFA FIFPro World XI, and the FIFA Puskás Award for best goal of the year.
The selection process for "The Best FIFA Football Awards" is based on the votes of national team captains and coaches from around the world, a select group of 200 journalists, and soccer fans, who are invited to cast their votes online on the FIFA website. The Spanish-language broadcast of "The Best FIFA Football Awards" is part of Telemundo Deportes's programming lineup in preparation for the FIFA Confederations Cup Russia 2017™ and the 2018 FIFA World Cup Russia™.