Reaching for a mobile device while waiting for coffee or watching TV has become common practice for most people. In fact, one of the most popular smartphone pastimes among users is simply looking for an activity on their smartphone.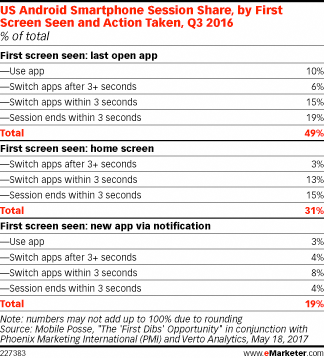 That's according to a study from mobile content discovery solutions firm Mobile Posse, in conjunction with Phoenix Marketing International (PMI) and Verto Analytics, which looked at smartphone usage among US Android users—and, in particular, the actions they took after unlocking their screen.
In the first scenario, roughly half (49%) of usage sessions started at the last app that was open. Out of that share, 10% used the app, while 19% ended their session within three seconds.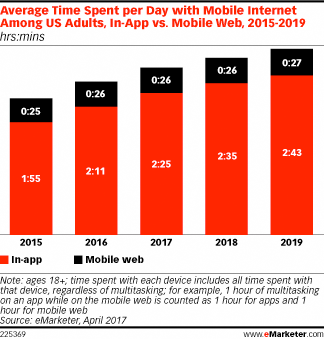 Another 31% of usage sessions started at the home screen, with many users likely confronted by a plethora of different apps.
Meanwhile, 19% of sessions began after users got a push notification.
According to the study, most people turn to their devices to "kill time." And respondents estimated that roughly half (47%) of their unlocks occurred with no particular app in mind.
But regardless of why they turn to their smartphones, there's no doubt that people are spending more time with mobile apps.
eMarketer projects that the average US adult will spend 2 hours 25 minutes per day using mobile apps in 2017, a jump of 10.3% over last year, and slightly higher than previously forecast.
That means time spent with mobile apps will account for 19.9% of average daily total media time, by our estimates.
Courtesy of eMarketer