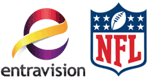 Entravision Communications Corporation announced that as part of its three-year deal signed with the NFL starting with the 2015 season, it will broadcast Super Bowl LI taking place in Houston, TX between the AFC Champion New England Patriots & NFC Champion Atlanta Falcons. On Sunday, February 5, Entravision will air coverage of the event across its NFL radio network which includes 15 Entravision stations in 13 markets and 13 affiliate radio properties.
"As part of our commitment to sports coverage, we are thrilled to provide the premiere Spanish-language radio broadcast of Super Bowl LI," said Jeffery Liberman, Chief Operating Officer of Entravision. "U.S. Latinos are a rapidly expanding part of the NFL fan base and Entravision is proud to help make one of the biggest sporting events of the year accessible to all fans. Over the years, we have made a significant investment to bring our audiences some of the most exciting professional sports programming in the world including soccer, football and baseball games. We look forward to our first Super Bowl radio broadcast and the continuation of our NFL partnership in the 2017 season."
The broadcast of Super Bowl LI will feature pre and post-game and play-by-play commentary from Entravision's very own Ricardo Celis, Tony Nunez and Carlos Alvarez, all with extensive sports and entertainment broadcast experience. Celis and Alvarez both joined the "Pase Completo" team this year, adding more depth and analysis insight to the broadcast.